During a fan meeting at the apm mall in Hong Kong, Kim Samuel did a dance with one of his fans!
Like what you see in the video above, the music began and Samuel Kim start dancing with his fan. during dancing He accidentally slapped the fan in her face in a funny moment, and quickly turned towards her by embracing and apologizing to her. The girl assured him that she was ok and showed a nice smile in her face.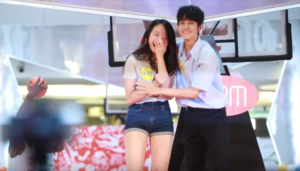 Kim Samuel showed an adorable reaction mixed with apologized and embarrassed at the same time. making all fans start "awwing".