TWICE threatened by An 'IlBe' member with hydrochloric acid and JYP Entertainment will take some actions against them.
Through an post published on 2nd July with the title, "TWICE has abandoned Korea and is earning a ton of money in Japan". the post attached with a photo clearly some Japanese fans come to see TWICE.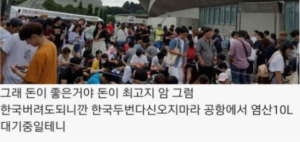 The content of the articles displays a set of abuse to TWICE and a threat to them, whereas the 'IlBe' threatened the girls by waiting them at the airport with 10 L of hydrochloric acid.
More: More than 100,000 copies sold of TWICE' Japanese debut album in 4 days
JYP Entertainment for their part will place security at the airport, and they are going to track the IP address of the poster for figure out their identity and take strict legal action against them.
To signal The girls will back to Korea on the 3rd.
Quiz to Play : Kpop Stars Quiz