On July 7th, on 'Choi Hwa Jung's Power Time' Blackpink talked about their close friendship with TWICE and GOT7.
Jennie and Jisoo said that they are close friends with Twice's Nayeon. Jisoo has a good friendship with Nayeon, there are many photos showing them together since trainee. Jennie also revealed that she has known Nayeon since trainee days and she always went to receive a greeting to her when they perform at the same place.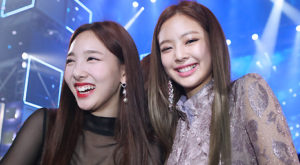 Where Rose stated that she is close with Chaeyoung of Twice. She said that they have the same name because her real name is Park Chae Young.
In the last the 'maknae'  Lisa spoke about her friendship with BamBam of GOT7. She expressed that she known him since they were little.