BTS appeared an announcement About Their Final 'WINGS' Tour!
After their successful concert for 'Wings' tour in February in different parts of the world, BTS revealed that they will have more concert for their 'WINGS' tour in December 8, 9, 10 at the Gocheok Skydome, following to their concert poster '2017 BTS Live Trilogy Episode III, The Wings Tour The Final'.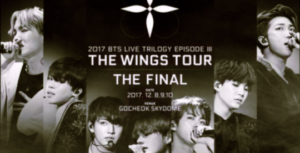 The boy group made this tour to meet their fans "ARMY" and to conclude their successful year in the best way.
To signal BTS are preparing for a comeback in this upcoming September. Are you excited for this BTS' Final 'WINGS' Tour and comeback?
Stay tuned for more updates!