Kpop Poll: Who is The Most Popular Kpop Girl Group?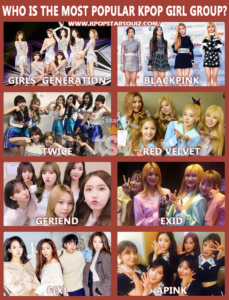 Everyone love his/her favorite kpop band, and all kpop groups are popular and skilled, In this kpop poll We choose those 8 most popular kpop groups, To see Which is the most popular from them.
From Girls' Generation, Black Pink, TWICE, Red Velvet, GFriend, EXID, F(x) and APink, tell us which K-pop group is the most popular?
Enjoy & Share with friends!!
Quiz to play: Kpop Song Quiz

Loading ...