Kpop Poll : Who is your favorite Kpop Idol with Red Hair – Male Edition
Dancing and singing may be important, but the visuals also important for any K-pop Idols. Their are different hair styles and colours. But we choose the red hair, it makes kpop idols look great.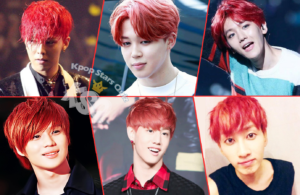 This is the list of handsome idols with red hair:
G-Dragon (BIGBANG)
Jimin (BTS)
Baekhyun (EXO)
Taemin (SHINee)
Mark (GOT7)
Eunhyuk (Super Juinior)
In this kpop poll, you can vote for best k-pop idol with red hair. PS: You can only vote once so choose wisely.
Let's see who is your favorite male kpop idol with red hair?
Enjoy & Share for other vote!!
Quiz to play: Kpop Song Quiz

Loading ...